Endocrinology: Welcome to our new and continuing residents and fellows!
Welcome to our new residents and fellows and welcome back to those who are continuing!

•    Current Residents and Fellows.
•    PGY-4 Profiles. Profiles of our fellows will be included in next newsletter.
•    2014-2017 Trainees' post-residency plans.
2017-2018 Endocrinology residents and fellows
| PGY4s | PGY5s |
| --- | --- |
| Dr. Miranda Boggild  | Dr. Nada Al Hashemi |
| Dr. Diana Jaskolka  | Dr. Alex Koshkina |
| Dr. Shirine Usmani  | Dr. Serena Pisani |
|   | Dr. Omar Saeed |
|   | Dr. Narendra Singh |
2017-2018 Endocrinology fellows
| new | Continuing |
| --- | --- |
| Dr. Balsam Bohlega  | Dr. Omalkhaire Mustafa Al Shaikh |
| Dr. Sameerah Abdulrahman A. Alshehri | Dr. Noran Ibrahim M Alharbi |
| Dr. Ji Wei Yang | Dr. Ahmad H.A.S.H.S.H. Alhashemi |
|   | Dr. Alhussain Mohammed Sageer Hakami |
|   | Dr. Ahmad Mohhmad A. Sumaily |
|   | Dr. Evelyn Ming Ming Wong |
Profiles of our PGY-4s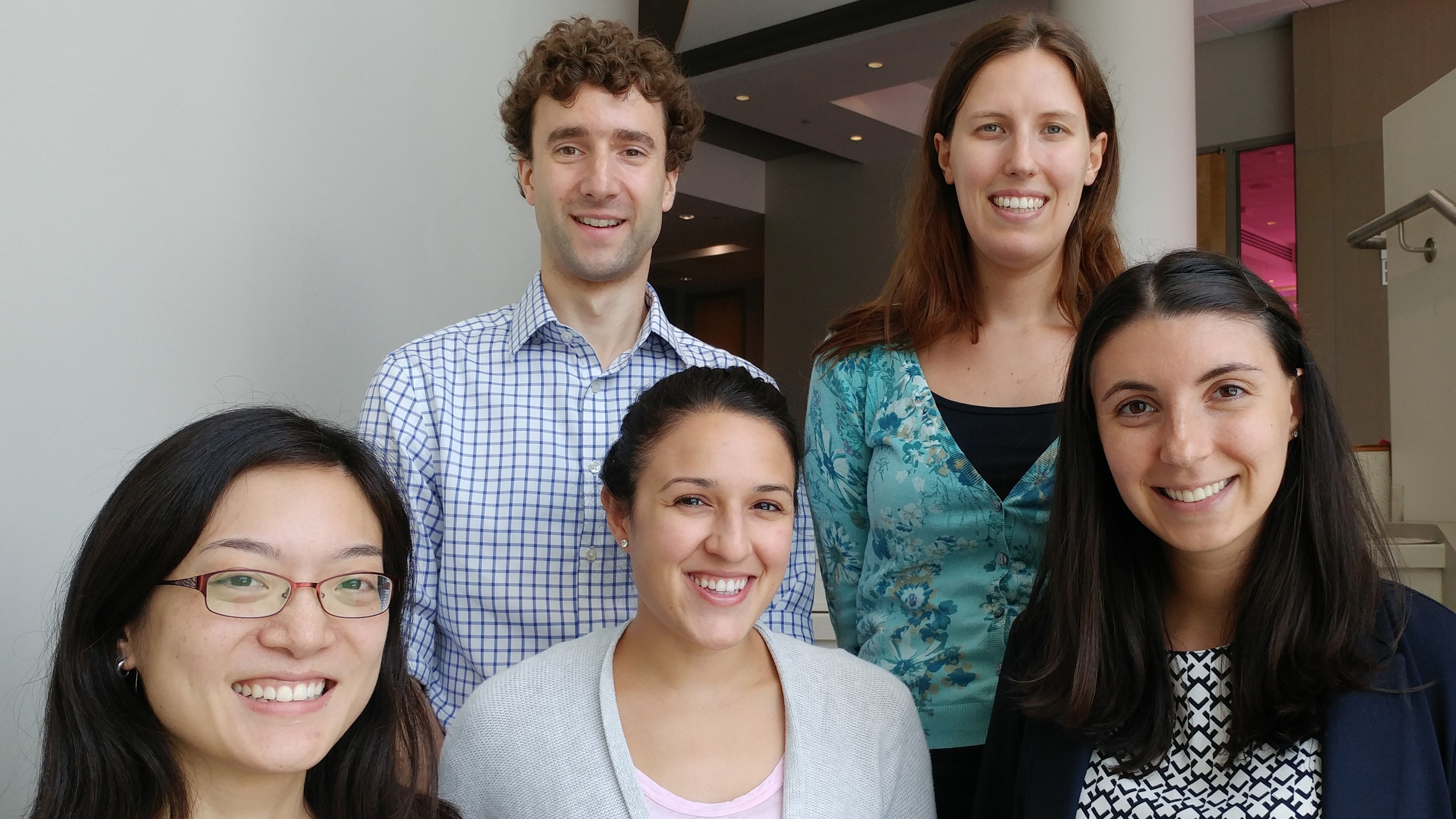 Dr. Miranda Boggild
Miranda is very excited to be starting the adult endocrinology and metabolism program! Miranda, originally from Ottawa, studied microbiology and immunology at McGill University for undergraduate training and moved to Toronto eight years ago to start medical school. She graduated from the University of Toronto MD program in 2013 and started residency in internal medicine. For the 2016-2017 academic year, Miranda was the chief medical resident at Toronto General Hospital, working closely with the internal medicine program and hospital in the training program development and delivery, and acting as an educational event organizer, teacher, and resident advocate. On a more personal note, Miranda played rugby and basketball in high school and university and continues to play co-ed basketball. Miranda has known that she wanted to pursue a career in endocrinology ever since medical school and couldn't be more excited to learn and explore interests in the field. 
Dr. Diana Jaskolka 
Diana recently completed her internal medicine residency at the University of Toronto. She obtained a Bachelor of Medical Science from Western University with a focus on physiology. She then moved to Canada's capital city for medical school at the University of Ottawa. She has enjoyed being back home in Toronto for her internal medicine training and is excited to be a part of Toronto's adult endocrinology program. Diana is interested in teaching and looks forward to motivating her patients to self-manage their conditions to achieve positive long-term impact. In her spare time, she enjoys playing defence on her co-ed floor hockey team.
Dr. Shirine Usmani 
Shirine is originally from Burlington, Ontario. She completed her undergraduate degree in physiology and pharmacology at the University of Western Ontario before being accepted into the MD/PhD program, also at Western. Her graduate work focused on musculoskeletal biology, specifically studying signaling pathways involved in skeletal development and osteoarthritis. After graduating from medical school, Shirine moved to Toronto for her internal medicine residency. She is thrilled to be starting a residency in endocrinology, and is looking forward to expanding her clinical knowledge and research interests.
Our 2014-2017 Trainees
We wish our recently graduated residents the best of luck with their future endeavours and encourage them to keep in touch with the division! See below for what our 2014-2017 trainees will be doing post-residency. 
2014-2017 Trainee post-residency plans
| | |
| --- | --- |
| Dr. Angela Assal | Angela will be completing her masters in bioethics and working as a clinical associate in the Division of Endocrinology at Sunnybrook Health Sciences Centre. |
| Dr. Christine Ibrahim | Christine will be working at Scarborough Rouge Hospital doing both endocrinology and internal medicine. |
| Dr. Calvin Ke | Calvin will be continuing his research training, which consists of a thesis-based PhD in clinical epidemiology at the Institute for Health Policy, Management and Evaluation. His work focuses on investigating the epidemiology of diabetes complications among global Asian populations across Ontario, India, and China. His primary supervisor is Dr. Baiju Shah. In October 2017, Calvin will be traveling to Hong Kong to concurrently complete a diabetes research fellowship at the Chinese University of Hong Kong under Dr. Juliana Chan, a leading clinician-scientist in diabetes epidemiology in the Asia-Pacific region. |
| Dr. Bikram Sidhu | Bikram has joined a community endocrinology practice in Edmonton starting in mid-July. Bikram will have a full clinical practice and will be setting up and facilitating a community endocrine rotation for the fellows at the University of Alberta. Bikram will also be finishing off his master's in health professions education through Maastricht University and hopes to graduate in 2018. He hopes to see everyone at this year's CDA/CSEM! |
| Dr. Vithika Silva | Vithika will be working in Scarborough at a GP/Specialty Clinic practicing general endocrine. |
| Dr. Jenny Wang | Jenny will be taking on a locum position in Scarborough. She hopes to eventually start a practice in the GTA and continue to lead projects in the area of quality improvement.  |
Return to ENDOnews - July 2017