Toronto Psoriasis Seminar (ToPS) and Robert S. Lester Postgraduate Dermatology Seminar
|
8:00am–4:00pm
Details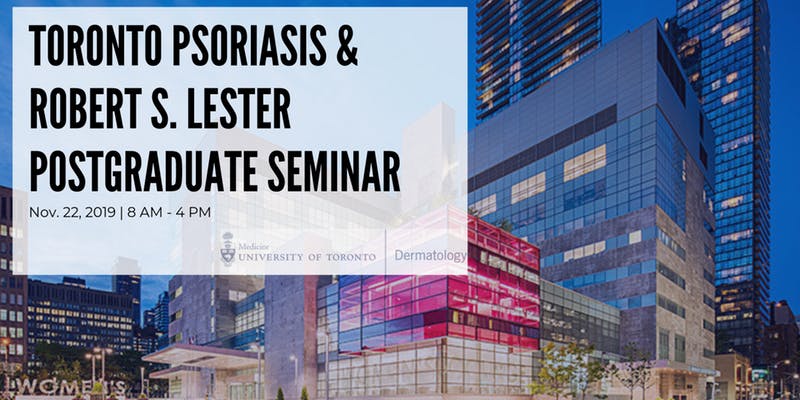 The Division of Dermatology is pleased to announce that the 15th Annual
Toronto Psoriasis Seminar (ToPS)
and 41st Annual
Robert S. Lester Postgraduate Dermatology Seminar
will be taking place on
November 22, 2019
at
Women's College Hospital
.
This year's combined ToPS and Robert Lester Postgraduate meeting has a theme of "Skin Inflammation". We have planned a full day with excellent national and international speakers on topics such as surgical intervention in hidradenitis suppurativa, microbiome and gut disease, cardiovascular risk in psoriasis, chemoprevention and non-melanoma skin cancer, and many more. View/download the final agenda.
Registration is now open online - we hope to see you there! PLEASE NOTE: due to overwhelming interest in this year's event, tickets are now sold out and as such we will not be accepting on-site registration. You can add yourself to the waitlist through the registration link.
This event is an Accredited Group Learning Activity (Section 1) as defined by the Maintenance of Certification Program of The Royal College of Physicians and Surgeons of Canada, and approved by the Canadian Dermatology Association. You may claim a maximum of 4.75 hours (credits are automatically calculated).
Location
76 Grenville Street, Auditorium, 2nd Floor
2019-11-22 13:00:00 2019-11-22 21:00:00 UTC Toronto Psoriasis Seminar (ToPS) and Robert S. Lester Postgraduate Dermatology Seminar The Division of Dermatology is pleased to announce that the 15th Annual Toronto Psoriasis Seminar (ToPS) and 41st Annual Robert S. Lester Postgraduate Dermatology Seminar will be taking place on November 22, 2019 at Women's College Hospital. This year's combined ToPS and Robert Lester Postgraduate meeting has a theme of "Skin Inflammation". We have planned a full day with excellent national and international speakers on topics such as surgical intervention in hidradenitis suppurativa, microbiome and gut disease, cardiovascular risk in psoriasis, chemoprevention and non-melanoma skin cancer, and many more. View/download the final agenda. Registration is now open online - we hope to see you there! PLEASE NOTE: due to overwhelming interest in this year's event, tickets are now sold out and as such we will not be accepting on-site registration. You can add yourself to the waitlist through the registration link. This event is an Accredited Group Learning Activity (Section 1) as defined by the Maintenance of Certification Program of The Royal College of Physicians and Surgeons of Canada, and approved by the Canadian Dermatology Association. You may claim a maximum of 4.75 hours (credits are automatically calculated). 76 Grenville Street, Auditorium, 2nd Floor - Women's College Hospital tessa.catchpole@utoronto.ca