Medical Education Scholarship (MEdS)
The purpose of Medical Education Scholarship (MEdS) in the Department of Medicine is to:
Accelerate academic impacts of education scholarship and the discovery of new knowledge;
Support the careers of trainees, clinician teachers, clinician educators, and investigators/scientists in education; and
Adapt and mobilize our research knowledge to respond to the education challenges of our day.
The Department of Medicine defines medical education scholarship as development, implementation, evaluation, and/or investigation of education activities, programs, and products, which is informed by both practice-based and research-based knowledge. The goal of the MEdS portfolio is to actively and consistently encourage knowledge mobilization that connects education scholars with frontline educators.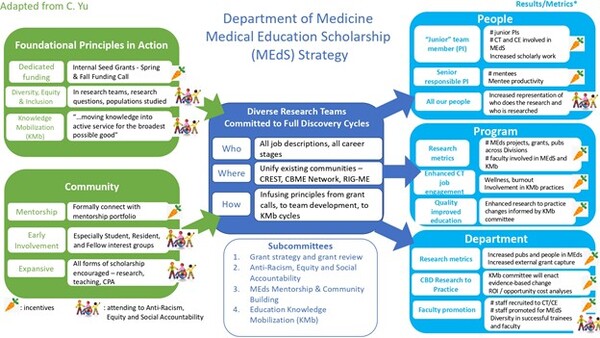 True to the tenets of educational scholarship, the MEdS team considers its strategic plan to be an ongoing partnership with its community and will be open to iterative refinements throughout the next five years. Such reciprocity will help achieve the MEdS vision of leading in medical education scholarship through a commitment to diversity, partnerships and meaningful impacts for people, patients, and society.
MEdS priorities include dedicated seed grant funding, EDI principles and practices, knowledge mobilization activities, and community-building that promotes various mentorship experiences for faculty and trainees. By creating diverse research teams committed to full discovery and knowledge mobilization cycles, the MEdS portfolio will:
Increase the scholarly productivity of clinician teachers and clinician educators involved in MEdS with the goal of improving: (a) research metrics like publications, and a greater number of external grants awarded to DoM faculty, and (b) their wellness and engagement in systems change through meaningful collaborations.

Enhance representation of who does the research, our research questions, and the populations we study, with a focus on anti-racism, equity and social accountability.

Enhance 'research to practice' changes that are informed by a Knowledge Mobilization Committee, especially within the realm of CBME implementation across divisions.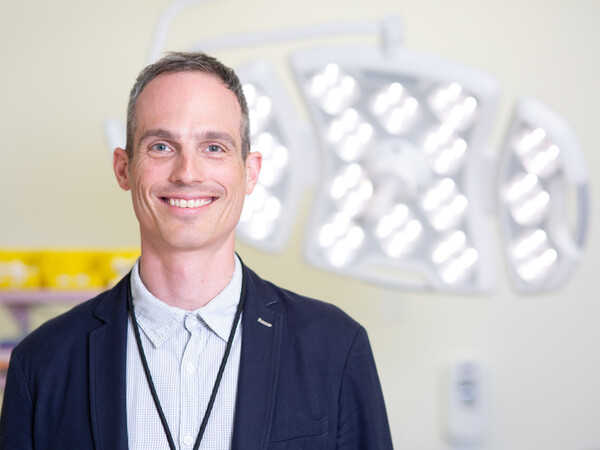 Dr. Ryan Brydges
Director
Ryan supports scholarly and research projects through varying levels of supervision and mentorship. He leads portfolio strategy and administration and will re-establish the Competency-Based Medical Education (CBME) Research Network and an education knowledge mobilization strategy across the DoM. Email Ryan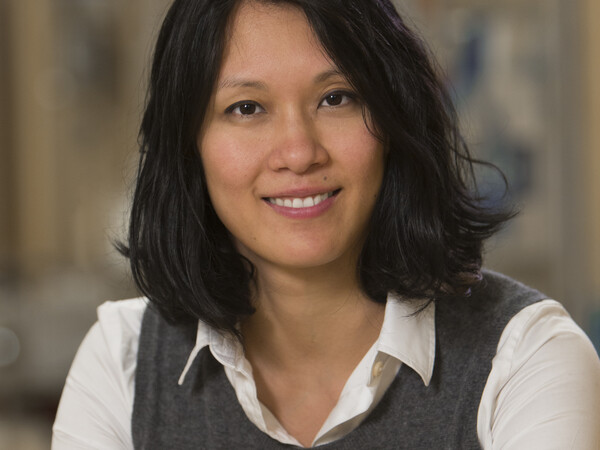 Dr. Christie Lee
Assistant Director
Christie is the lead in further building and strengthening our community of MEdS scholars and developing internal and external relationships. She also leads in mentoring Clinician Teachers and Educators through their promotion pathways for their MEdS work. Email Christie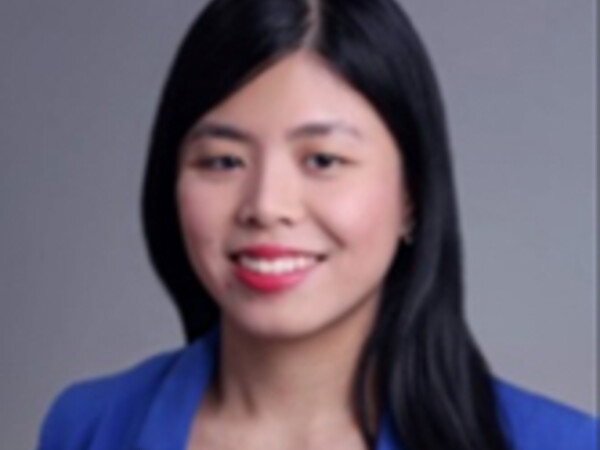 Judy Tran
MEdS Coordinator
With an MBA in strategic management, Judy coordinates all administrative and strategic activities within the MEdS portfolio. Email Judy