Appointments & Awards: April 2021
Cardiology, Clinical Immunology & Allergy, Clinical Pharmacology & Toxicology, Division of Dermatology, Education, Emergency Medicine, Endocrinology & Metabolism, Faculty, Gastroenterology & Hepatology, General Internal Medicine, Geriatric Medicine, Hematology, Infectious Diseases, Medical Oncology, Nephrology, Neurology, Occupational Medicine, Physical Medicine & Rehabilitation, Research, Respirology, Rheumatology, Palliative Medicine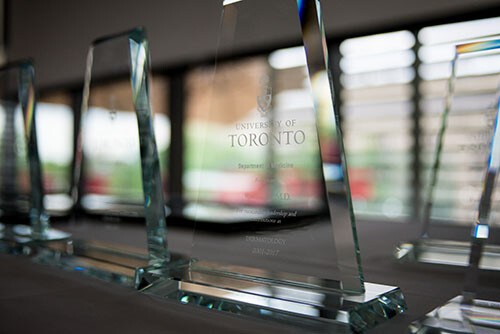 Appointments
Kathryn Tinckam, Physician-in-Chief and Program Medical Director, University Health Network
We are very pleased to announce the appointment of Dr. Kathryn Tinckam as Physician-in-Chief and Program Medical Director, Department of Medicine at the University Health Network, effective April 1, 2021.
Awards
Association for Psychological Science (APS)
Jennifer Rabin, Rising Star Award
Canadian Rheumatology Association 
Rachel Shupak, Distinguished Rheumatologist 
Rachel received the award to honour her contributions for the development and implementation of the Advanced Clinician Practitioner in Arthritis Care (ACPAC) program which has trained over 100 allied health providers from across the country to function in extended roles to advance arthritis care and management.
Zahi Touma, Emerging Investigator Award
Recognizes a rheumatologist, who during the first seven years from first faculty appointment, has contributed outstanding, original research in rheumatology as judged by peers and citations Zahi was recognised for his leading work in Systemic Lupus Erythematosus, particularly assessing the impact lupus has on cognitive function.
CIHR
Mario Masellis, Mid Career Investigator Prize in Research in Aging, Principal Investigator, Institute of Aging, Canadian Institutes of Health Research (CIHR), Canada. (Research Award, Specialty: Research in Aging)

The Mid Career Investigator Prize in Research in Aging is granted to eligible and successful applications that are determined to be aligned with the CIHR's Institute of Aging (IA) mandate. The prize is given to the highest ranked mid career investigator in the area of aging who is the recipient of a CIHR Fall 2020 Project Grant. 
PARO
Umberin Najeeb and Sheldon Singh, Excellence in Clinical Teaching Award
Priti Gros, Resident Teaching Award
Division of Geriatric Medicine, Residency Program Excellence Award
St. Michael's Hospital 
Jane Batt, Keenan Legacy Award 2020
Awarded to the scientist who enhances the reputation of biomedical or translational research and their actions lead to a rich tradition of developing the next wave of great scientists.
Jane Batt, Angels Den Peoples Choice Award 2020
Awarded for "Smar Garments: AI Therapy for Angels Den is a St Michaels Hospital competition, conducted virtually, where researchers present innovative solutions for urgent health care problems. The online audience votes for the project to be awarded the Peoples Choice Award.
Temerty Faculty of Medicine
Ebru Kaya, Award for Excellence in Postgraduate Medical Education in the category of Development and Innovation
Ebru received this award together with Dr. Ahmed Al-Awamer from DFCM, with whom she co-leads the Palliative Medicine clinical fellowship program in the Division of Palliative Medicine, DoM. Drs. Kaya and Al-Awamer were nominated for developing and implementing the international palliative care clinical fellowship program, which has successfully trained fellows from more than 20 countries, and for developing an innovative online bridging program, which prepares international fellows for their fellowship at U of T through online modules and live sessions prior to arriving in Canada.
University of Toronto
University of Toronto, MD Program 2019-20 Teaching Excellence Award
Shaheeda Ahmed
Nisha Andany
Lisa Chodirke
Edward Etchells
Zachary Feilchenfeld
Aaron Izenberg 
Ariel Lefkowitz
Rebecca Stovel
Piero Tartaro
Harvey Wong