Appointments & Awards: January 2021
Department of Medicine: Insulin 100, Geriatric Medicine, Emergency Medicine, Cardiology, Clinical Immunology & Allergy, Clinical Pharmacology & Toxicology, Division of Dermatology, Endocrinology & Metabolism, Gastroenterology & Hepatology, General Internal Medicine, Hematology, Infectious Diseases, Medical Oncology, Nephrology, Neurology, Occupational Medicine, Physical Medicine & Rehabilitation, Respirology, Research, Education, Rheumatology, Palliative Medicine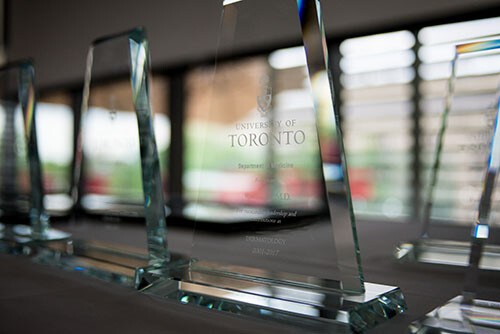 Appointments
Andrea V. Page, appointed Wightman-Berris Academy Director
The Academy Director is the University of Toronto, Temerty Faculty of Medicine Dean's representative and is responsible for all academic and administrative matters pertaining to the Academy and its educational programs. The Wightman-Berris Academy, with its anchor locations at the University Health Network and Mount Sinai Hospital along with key community and specialty partner sites, is the largest of four Medical Academies of the University of Toronto, Faculty of Medicine.
Larry Robinson, elected President of Canadian Association of Physical Medicine & Rehabilitation
Dr. Robinson leads in the changing post-COVID world as virtual rehabilitation and education unleashes opportunities to expand the rehabilitation expertise of both Sunnybrook and CAPMR on an international level.
Kathryn Tinckam, appointed Physician-in-Chief for University Health Network, effective April 1, 2021
We are very pleased to announce the appointment of Dr. Kathryn Tinckam as Physician-in-Chief and Program Medical Director, Department of Medicine at the University Health Network, beginning April 1, 2021. Dr. Tinckam is Associate Professor of Medicine at the University of Toronto, and is a Transplant Nephrologist, Laboratory Medicine Physician (HLA Laboratory), and Program Medical Director (Interim), Laboratory Medicine at the University Health Network.
Susan R. George Bahl, Order of Canada
Susan R. George Bah was named a Member of the Order for her pioneering contributions to the fields of molecular pharmacology and neuroendocrinology. She holds a Canada Research Chair in molecular neuroscience and is a member of the Collaborative Program in Neuroscience.
Heather Ross, Order of Canada
Heather Ross was named a Member of the Order for her contributions to Canadian cardiac care as a clinician, translational researcher and field leader. A U of T alumna, she is also division head of cardiology at the University Health Network's Peter Munk Cardiac Centre and scientific lead at the Ted Rogers Centre for Heart Research.
Umberin Najeeb, Equity Lead, Culture and Inclusion, Department of Medicine
Simron Singh, Wellness Lead, Culture and Inclusion, Department of Medicine
Catherine Yu, Mentorship Lead, Culture and Inclusion, Department of Medicine
Awards
Best Health
Susy Hota, "2020 Women of the Year"
Named a 2020 Women of the Year for her COVID-19 work both at UHN and at long-term care homes.
Canadian Institutes of Health Research (CIHR)
Vaping and asthma - A study on short and long-term health effects of vaping among Ontario youths and young adults with asthma identified in health administrative data and linked to the Canadian Community Health Survey
Co-applicant: CW Chow
Principal Applicant: TO, Teresa
Respiratory Effects of Nicotine and THC E-Cigarettes
Co-applicants: CW Chow, Clodagh Ryan, Michael Chaiton, Hui Peng
Principal Applicant: SCHWARTZ, Robert
Canadian Research Chairs
Gillian Booth, Tier 1 (CIHR): Policy solutions for diabetes prevention and management
Herbert Gaisano, Tier1 (CIHR): Diseases of Endocrine & Exocrine Pancreas
Harindra Wijeysundera, Tier 2 (CIHR): Structural Heart Disease Policy & Outcomes
CIHR, Institute of Health Services and Policy Research
Nathan Stall, 2020 IHSPR Rising Star Award
Awarded for the article titled "Sex-Specific Differences in End-of-Life Burdensome Interventions and Antibiotic Therapy in Nursing Home Residents With Advanced Dementia".
Hospital for Sick Children
Rulan Parekh, 2020 President's Award recipient
Dr. Parekh, Associate Chief of Clinical Research, is the recipient of the President's Award for her outstanding contributions to enhancing the seamless integration of clinical research activities with clinical practice.
National Institutes of Health (NIH)
Electronic Cigarette Use and Alveolar Macrophages: A Preliminary Study
Principal Applicant: CW Chow
Co-applicant: Robert Schwartz;
Co-investigators: Clodagh Ryan; Micheal McInnis; Miranda Kirby
Society of Cognitive and Behavioral Neurology (SBCN)
Sandra Black, Lifetime Achievement Award, which recognizes outstanding contributions to the field of behavioral neurology.
The SBCN is made up of professionals, including fellows, residents, graduate students, and faculty members, who represent a range of disciplines, including neurology, psychiatry, neuropsychiatry and cognitive neuroscience and share a common interest in brain-behavior relationships and disorders of behavior related to neurological illness.
St. Michael's Hospital
Kieran McIntyre, Robert H. Hyland Teacher of the Year Award
Sunnybrook Health Sciences Centre, Department of Medicine
Julia Hopyan, 2020 Ambulatory Teaching Award
Presented in recognition of outstanding contributions to ambulatory education.
University of Toronto, Postgraduate Medical Education
Esther Bui, Medical Humanities Education Grant, Fall 2020
The Medical Humanities Education Matching Funding Grants support projects enhancing integration, application, and/or education within the scholarship of medical humanities and humanism in postgraduate medical education in the Faculty of Medicine at the University of Toronto. rant recipients will be provided funding up to a maximum of $5,000 per project for a one-year period. Applicants must agree to submit a project report at the end of the period.
Andrea Gershon, William J. Sibbald Faculty Mentoring Award
Presented to a faculty member at the University who excels in mentorship of junior faculty.
University of Toronto, Temerty Faculty of Medicine
Hattie Liu, Staff Impact Awards, Service in a Laboratory Research Environment Award
Hattie Liu, Laboratory Technician in the Department of Medicine has worked in her role for an impressive 20 years. In addition to performing and coordinating experiments in a busy laboratory and co-authoring many publications, she has been an exceptional trainer, mentor and friend to many students and trainees. She helps to trouble shoot and brainstorm new solutions and works to ensure that the lab is a warm and welcoming environment. She is an exceptional steward of laboratory research and willingly shares her wisdom, experiences and her talents with young researchers.
UHN / SHS Department of Medicine
Shane Shapera, Teacher of the year award 2019-2020