Appointments & Awards: June 2021
Cardiology, Clinical Immunology & Allergy, Clinical Pharmacology & Toxicology, Division of Dermatology, Education, Emergency Medicine, Endocrinology & Metabolism, Faculty, Gastroenterology & Hepatology, General Internal Medicine, Geriatric Medicine, Hematology, Infectious Diseases, Medical Oncology, Nephrology, Neurology, Occupational Medicine, Physical Medicine & Rehabilitation, Quality & Innovation, Research, Respirology, Rheumatology, Palliative Medicine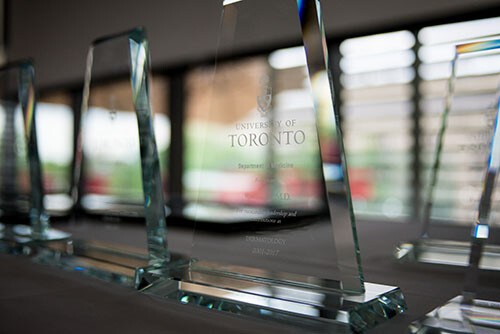 Appointments
Samir Sinha, appointed Chair of Technical Committee, HSO National Long-Term Care Services Standard
The NSC engages with seniors, stakeholders and experts to provide advice to the Government of Canada on matters related to the health, well-being and quality of life of seniors. The NSC is made up of experts on seniors' issues and aging, individuals with experience working for organizations that represent the interests of seniors and seniors themselves. Members are nominated based on their expertise and experience related to seniors issues. They are appointed by the Governor in Council on the recommendation of the Minister of Seniors and the Minister of Health.
Awards
American Geriatrics Society
Jennifer Watt, 2021 American Geriatrics Society (AGS) Outstanding Junior Research Manuscript Award
Describing how non-drug interventions are as or more efficacious than drugs for reducing symptoms of agitation or aggression in dementia, findings from this manuscript have been implemented in the houses of providence.
Thiru Yogaparan, 2021 Canadian Geriatric Society of the Peter McCracken Physician Innovator in Education Award
Canadian Cancer Trial Group
Anca Prica, Ralph Meyer Phase III Young Investigator Award
Peters Boyd Academy
Aaron Izenberg, Award of Merit
William Silverstein, Resident Teaching
Royal College
Nathan Stall, 2021 Royal College Award for Early-Career Leadership in Healthy Policy/Health Systems.
Shirley Ryan Ability Lab
Larry Robinson, Alumni Influencer
Larry Robinson was chosen by his residency program at Northwestern University to be highlight as an "Alumni Influencer". In the article, he discusses his enthusiasm for electromyography (EMG) and his focus as the new president of the Canadian Association of Physical Medicine & Rehabilitation (CAPMR).
Sunnybrook Health Sciences Centre,
Sunnybrook Education Advisory Council
Mark Cheung, The Allan Knight Lifetime Achievement in Teaching Award
The Allan Knight Lifetime Education Achievement Teaching Award recognizes an individual who has demonstrated sustained excellence in teaching during their career at Sunnybrook Health Sciences Centre, evidenced by the perspectives of those they trained with respect to a significant impact on their clinical career and/or scholarly development.
Aaron Izenberg, Student Experience Award
The Student Experience Award recognizes "above and beyond" contributions to creating an outstanding learning environment for students, interns, residents and fellows. Contributions should evolve Sunnybrook's culture of teaching and learning and have an impact beyond individual students/trainees. Teaching may be clinical or non-clinical and in any profession
Jerome Leis, Educating Sunnybrook Award
The Educating Sunnybrook Award recognizes excellence in teaching and facilitating learning for all members of the Sunnybrook family. Winners will have demonstrated a commitment to the education and learning of their colleagues and co-workers
Sam Radhakrishnan, Educating Beyond Sunnybrook Award
The Educating Beyond Sunnybrook Award recognizes staff, physicians and volunteers who have demonstrated excellence in teaching and facilitating learning outside of the hospital or educational institutions. These individuals represent our commitment to education beyond our traditional environments in settings that may be local, regional, national or international
Nisha Andany, Innovative Curriculum Award
The Innovative Curriculum Award recognizes an educator or team of educators who have designed and/or implemented teaching that is innovative with respect to planning/development, content, methods, delivery and/or evaluation/assessment. The award recognizes "new, innovative and creative" contributions to teaching and learning for students, staff, clinicians, patients and the community. Contributions should espouse Sunnybrook's Education vision to reinvent the future of health care education by leading in the development and dissemination of innovative methods of teaching and learning as we build capacity for education scholarship. Teaching may be clinical or non-clinical and in any profession.
University of Toronto, Divisioin of Cardiology
Shaheeda Ahmed, 2021 Robert J Chisholm Award for Fellowship Teaching
Awarded to one faculty member in the U of T Cardiology Division city-wide for excellence in Cardiology fellowship teaching (PGY 7-9) nominated by the Cardiology fellows.
University of Toronto
Mark Hansen, Douglas E. Wigle Award for Resident Teaching
Western University
Nathan Stall, 2021 Alumni of Distinction Award by Schulich School of Medicine & Dentistry