Appointments & Awards: May 2021
Education, Faculty, Hematology, Neurology, General Internal Medicine, Endocrinology & Metabolism, Quality & Innovation, Research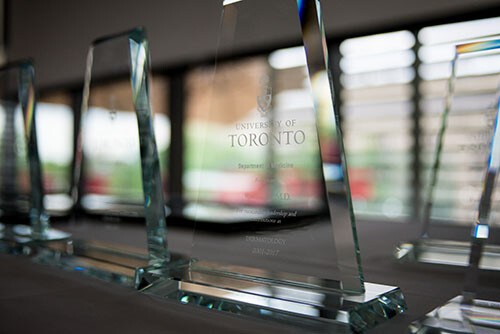 Appointments
Stephen Juvet, Deputy Research Director for the Ajmera Transplant Centre at UHN
Awards
Cystic Fibrosis Foundation
Tereza Martinu, Research Awards (2)
Division of Hematology
Armand Keating Award- Paper of the Year, "Outcomes of patients hematologic malignancies and COVID-19: A systematic review and meta-analysis of 3377 patients" BLOOD. 2020; 136 (25): 2881 - 2892
Abi Vijenthira1, Inna Y. Gong2, Thomas A. Fox3, Stephen Booth4, Gordon Cook5, Bruno Fattizzo6,7, Fernando Martín Moro8, Jerome Razanamahery9, John C. Riches10, Jeff Zwicker11, Rushad Patell11, Marie Christiane Vekemans12, Lydia Scarfò13, Thomas Chatzikonstantinou14, Halil Yildiz15, Raphaël Lattenist15,16, Ioannis Mantzaris17, William A. Wood18, Lisa K. Hicks 2,19
Michelle Sholzberg, Michael A. Baker Mentorship Award
This award emphasizes the strategic goal to enhance mentorship across the academic spectrum and to optimize faculty members' well-being and academic success: Dr. Michelle Sholzberg was the inaugural recipient of this award based on her work at St. Michael's Hospital
Yulia Lin, Jerry Scott Teaching Award
This award recognizes the outstanding educational contribution to the Division of Hematology and to the Faculty of Medicine in the area of undergraduate, postgraduate and/or continuing professional education.
Michael Scott, Dom Pantalony Award
This award recognizes a resident/fellow who can live up to Dr. Pantalony's reputation demonstrating passion for hematology and education, displays the highest professionalism and collegiality.
Division of Neurology
Slamen-Fast New Initiatives in Neurology fund
Agessandro Abrahao, Mark Boulos, Mary Jane Lim Fat, Jennifer Rabin (Sunnybrook)
Charles Kassardjian, Kristen Krysko, Raphael Schneider, Manav Vyas, Atif Zafar (St. Michael's)
Esther Bui, Aylin Reid, Lorraine Kalia, Sarah Lidstone (University Health Network)
The Division of Neurology received a $1-million donation to establish the Slamen-Fast New Initiatives in Neurology fund. This transformative gift is made possible by the generosity of Louise Fast, Joan Slamen and the Fast Foundation. Specifically, the gift will enhance the mission of the division and ensure faculty success by providing grants for vital research, education and quality improvement projects, which will lead to the very best patient-care.
National Academy of Science
Dan Drucker, elected to the National Academy of Science, another highest honour in scientific achievement
Temerty Faculty of Medicine, Dean's Alumni Awards
Sharon Straus (MD '90, PGME '96, MSc '03), Lifetime Achievement – International/Global Impact Award
Dr. Straus is one of Canada's top clinician-scientists, and has earned an international reputation in the fields of geriatrics and epidemiology and a wide range of honours for her clinical work, research and professionalism. She is the first female Physician-in-Chief at St. Michael's Hospital in Toronto, where she also serves as director of the Knowledge Translation (KT) Program, and holds a Tier 1 Canada Research Chair in Knowledge Translation and Quality of Care. Dr. Straus has authored more than 500 publications and three textbooks in evidence-based medicine, knowledge translation and mentorship, and created unique courses in practising KT that are delivered worldwide. She currently leads an international network to build KT capacity in low- and middle-income countries, funded by the Canadian Institutes of Health Research (CIHR), World Health Organization (WHO) and the United Nations, and leads the WHO's technical support centre for guideline implementation.

Brian Wong (BSc '99, MD '03, PGME '06, PGME '07), Emerging Leader Award
Dr. Wong is a nationally and internationally-recognized quality improvement (QI) education expert who is leading truly transformative changes in our healthcare system. His work centres on the intersection between patient safety, quality improvement and medical education. He played an instrumental role in revising the CanMEDS 2015 competency framework to integrate QI and patient safety as required elements of training for all physicians in Canada. As Director of the Centre for Quality Improvement and Patient Safety (CQuIPS) — a joint partnership between U of T's Temerty Faculty of Medicine and three of its affiliated hospitals — Dr. Wong has co-led the creation of several innovative educational programs. Most recently, in response to the COVID-19 pandemic, Dr. Wong co-led the creation of a new clinical program called LTC+ that partners long-term care (LTC) homes in Toronto with acute care hospitals and community services to increase clinical support in LTC homes.

Kim Connelly (PGME '09), Insulin 100 Emerging Leader Award (co-winner)
As a clinician, teacher and researcher at the nexus of diabetes and cardiology, Dr. Connelly has demonstrated unique and exceptional leadership. He is a professor with U of T's Department of Physiology and Institute of Medical Science, and the Director of the Krembil Stem Cell Facility at St. Michael's Hospital, where he uses cell-based therapies to improve cardiac and renal dysfunction as a result of diabetes. He has led Diabetes Canada's Guidelines Steering Committee on Cardiovascular Complications and the Treatment of Diabetes in People with Heart Failure, as well as being the Chair of the Guidelines Committee for the Canadian Cardiovascular Society. Dr. Connelly has received many prestigious awards, including Young Investigator of the Year from the Canadian Cardiovascular Society, Ontario's Early Researcher Award and a Canadian Institutes of Health Research (CIHR) New Investigator Award. He has also been recognized internationally for his work in heart failure in diabetes, most recently as a speaker at the American Diabetes Association's 2020 Heart failure symposium.