Appointments & Awards: October 2020
Cardiology, Clinical Immunology & Allergy, Emergency Medicine, Endocrinology & Metabolism, Faculty, General Internal Medicine, Gastroenterology & Hepatology, Hematology, Palliative Medicine, Rheumatology, Respirology, Research, Physical Medicine & Rehabilitation, Occupational Medicine, Neurology, Nephrology, Medical Oncology, Infectious Diseases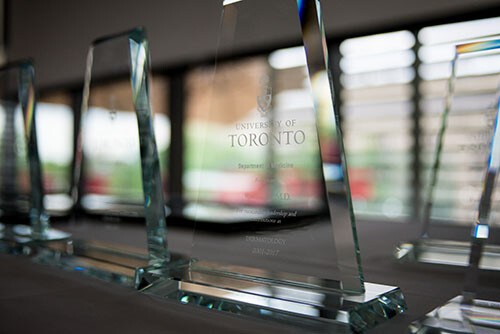 Appointments
Canada Research Chairs
Darrell Tan, Tier 2 Canada Research Chair
Sharmistha Mishra, Tier 2 Canada Research Chair
The Canadian Academy of Health Sciences (CAHS)
Dafna Gladstone, Fellow
Ravi Retnakaran, Fellow
Department of Medicine, University of Toronto
Mireille Norris, Department of Medicine, Appointment of Internal Medicine, Faculty Lead – Black and Indigenous Resident Application and Mentorship Program
Working jointly with the Vice-Chair, Education, and the Vice-Chair, Culture and Inclusion, Dr. Norris will actively enhance and implement the formal Black and Indigenous Student application stream for the Core Internal Medicine Residency Program; support subspecialty program directors in developing similar pathways in their programs; and develop a mentorship program for Black and Indigenous learners within the Department of Medicine.
University of Toronto and University Health Network
Alfonso Fasano, Chair in Neuromodulation and Multidisciplinary Care
First holder of the Movement Disorders Chair in Neuromodulation and Multidisciplinary Care. This Chair has been funded through the generous support of an anonymous donor, made possible by Dr. Anthony Lang.
Royal College of London
Jay Silverberg, Fellow
Awards
Canadian Journal of Neurological Sciences
Amy Yu, Distinguished Reviewer of the Year
Canadian Rheumatology Association
Bindee Kuriya and Lihi Eder, CRA (CIORA) Grant entitled: "Measuring Quality of Heart Failure Care in Inflammatory Arthritis- Are We Making the Mark?"
Canadian Society of Echocardiography
Campbell Joyner, Annual Achievement Award
This award recognizes Canadian health care professionals who have made significant contributions to echocardiography in terms of leadership, teaching or research.
Canadian Society of Transplantation
Jeffery Schiff, CST Education and Teaching Excellence Award
Recognizing demonstrated exemplary commitment to the CST mission through excellence in teaching and educational program development, as part of the care of Canadian organ transplant patients.
Clarivate
Anthony Lang, 2019 & 2020 Highly Cited Researchers
The Highly Cited Researchers list identifies researchers who produced multiple papers ranking in the top 1% by citations for their chosen field or fields and year of publication, demonstrating significant influence among their peers. This top 1% of the global research community represent magnets in their respective discipline.
Department of Medicine, University of Toronto
Christine Song, Outstanding Postgraduate Teacher Award
This award recognizes faculty for their dedication, enthusiasm and teaching excellence. Nominated by postgraduate trainees.
Division of Cardiology, University of Toronto
Campbell Joyner, Robert Chisholm Award for Excellence in Fellowship Teaching
Division of General Internal Medicine, University of Toronto
Ariel Lefkowitz, Dr. Jerry Zownir Early Career Teaching Award in General Internal Medicine at the University of Toronto (Nominated)
Division of Neurology, University of Toronto
Brian Murray, John Edmeads Award for Outstanding Mentorship and Guidance
Division of Respirology, University of Toronto
Anu Tandon, Division of Respirology Teaching Award
Heart and Stroke Foundation of Canada
Amy Yu, National New Investigator Award for Excellence in Cardiovascular or Cerebrovascular Research
MD Program, University of Toronto
Susanna Cheng, Medical Alumni Association, Dr. E Mary Hollington Teaching Award for Excellence in Pre-Clinical or Basic Science Teaching
Michael Raphael, Peters Boyd Academy Teaching Award for CBL 2
St. Michael's Hospital Foundation
Darren Yuen and Kieran McIntyre, Angels Den 2020 Keenan Covid-19 Research Award
For their project titled, "Lung Life after COVID-19," Yuen and McIntyre received funding of $150K a year for three years.
Jane Batt, Angels Den 2020 People's Choice Award
For the project titled, "Smart Garments: AI Therapy For Your Muscles."
Women's College Research Institute
Lihi Eder, Best Research Mentor Award from the Women's College Research Institute
This award honors clinical researchers or researchers based at WCH who have shown a commitment to the mentorship of young people.
Wightman-Berris Academy, University of Toronto
Ariel Lefkowitz, Individual Teaching Excellence Award in the Undergraduate Category
University of Zurich
Gustavo Saposnik, PhD in Neuroeconomics with Honors
Dr. Saposnik was recently awarded Honors after the completion of a PhD in Neuroeconomics (Decision Neuroscience) at the University of Zurich. This achievement was carrying after taking a sabbatical year and while fulfilling clinical, teaching, and research commitments as a staff Neurologist. By applying concepts from behavioral economics into health care, Gustavo's explained how physicians handle uncertainty based on his work on the Foundations of Therapeutic Inertia. Gustavo and his team also developed and implemented educational interventions to optimize therapeutic decisions and ameliorate therapeutic inertia.