Chair's Column: Introducing MEdS: Mobilizing Education Research and Scholarship to Accelerate Impact and New Funding for Education Scholarship
About Us, Cardiology, Clinical Immunology & Allergy, Clinical Pharmacology & Toxicology, Division of Dermatology, Education, Emergency Medicine, Endocrinology & Metabolism, Faculty, Gastroenterology & Hepatology, General Internal Medicine, Geriatric Medicine, Hematology, Infectious Diseases, Medical Oncology, Nephrology, Neurology, Occupational Medicine, Physical Medicine & Rehabilitation, Quality & Innovation, Research, Respirology, Rheumatology, Palliative Medicine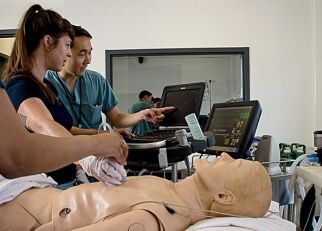 The Department of Medicine is known globally for its leadership in and substantial contributions to the field of medical education research and scholarship. Under the inaugural leadership of education scholar and clinician scientist Dr. Shiphra Ginsburg, the community of DoM members and learners engaged in this work has thrived and grown. At a DoM Medical Education Scholarship Retreat in late 2020, it became clear that new strategies were required to support the large numbers of physicians and learners engaged in medical education scholarship. Building on the exceptional work of Dr. Ginsburg, DoM Vice Chair for Education, Dr. Arno Kumagai, has now launched the new Medical Education Scholarship (MEdS) portfolio to address these needs.
Introducing the new MEdS team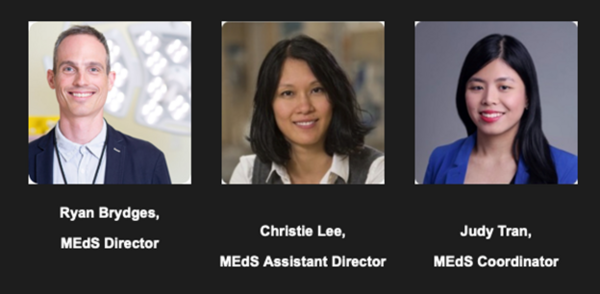 Dr. Ryan Brydges, Director:  Ryan will support scholarly and research projects through varying levels of supervision and mentorship. He will lead portfolio strategy and administration and will re-establish the Competency-Based Medical Education (CBME) Research Network and an education knowledge mobilization strategy across the DoM.
Dr. Christie Lee, Assistant Director: Christie will lead in further building and strengthening our community of MEdS scholars and developing internal and external relationships. She will also lead in mentoring Clinician Teachers and Educators through their promotion pathways for their MEdS work.
Judy Tran, MEdS Coordinator: With an MBA in strategic management, Judy will expertly coordinate all administrative and strategic activities within the MEdS portfolio.
A Renewed Vision, Mission and Revitalized Strategic Plan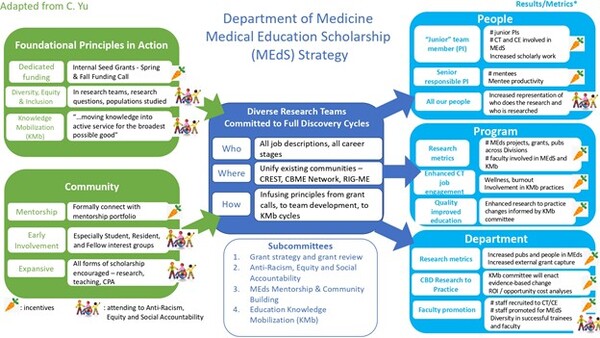 Building on input received at the 2020 retreat, and from members of the DoM Education Executive Committee, the MEdS team have developed a robust five-year plan to achieve its mission of embedding high-impact knowledge discovery, innovation, and knowledge mobilization within the DoM and beyond. True to the tenets of educational scholarship, the MEdS team considers the plan to be an ongoing partnership with its community and will be open to iterative refinements throughout the next five years. Such reciprocity will help achieve the MEdS vision of leading in medical education scholarship through a commitment to diversity, partnerships and meaningful impacts for people, patients, and society.
Foundational priorities within their plan include dedicated seed grant funding, EDI principles and practices, knowledge mobilization activities, and community-building that promotes various mentorship experiences for our faculty and trainees. By creating diverse research teams committed to full discovery and knowledge mobilization cycles, the MEdS strategy will:
Increase the scholarly productivity of clinician teachers and clinician educators involved in MEdS with the goal of improving: (a) research metrics like publications, and a greater number of external grants awarded to DoM faculty, and (b) their wellness and engagement in systems change through meaningful collaborations.
Enhance representation of who does the research, MEdS research questions, and the populations MEdS scholars study, with a focus on anti-racism, equity and social accountability.
Enhance 'research to practice' changes that are informed by a Knowledge Mobilization Committee, especially within the realm of CBME implementation across divisions.
Announcing New Seed Funding: The Bi-Annual Strategic MEdS Grant Competition
As a keystone of the MEdS Portfolio, the Department is excited to announce two new funding opportunities annually (spring and fall) for MEdS innovations and research. The funds will be available to DoM full and part-time faculty, as well as DoM trainees.
This grants program aims to support MEdS projects with a defined and timely objective, and will have a preference for pilot projects aiming to generate data for applications to external funding agencies. The funding available for any individual project will range from $5,000 to $10,000, depending on the period of funding required.
For the inaugural 2021 grant competition, the MEdS team will be accepting short proposals (maximum three pages) with a deadline of December 20, 2021.
Submissions will receive preference if they relate to our 2021 Priority areas:
Promoting education research and scholarship in areas of equity, diversity, and inclusion;
Competency-based medical education; and
Innovations in teaching and assessments of teaching effectiveness.
Project proposals that extend beyond these priority areas will also be considered.
Stay tuned for more specific guidelines and criteria for this exciting competition. Please direct questions to Ryan (ryan.brydges@utoronto.ca) and Judy (judy.tran@utoronto.ca).
Looking Ahead: Year Two Aims
As the MEdS team looks ahead to 2022, they will be aiming to:
Develop a Community of Scholars to help match junior trainees and faculty with established scholars for mentorship and support;
Develop structures and practices to ensure a diverse community of researchers and research practices;
Re-initiate the CBME Research Network; and
Establish a committee and internal practices for enhanced knowledge mobilization practices across the Department.
I am thrilled to announce this new MEdS team and set of initiatives. Enhancing diversity, moving research evidence into practice, and preparing academic leaders are Department priorities. I know that our DoM will continue to shine in all the work we do in MEdS.