Remembering Dr. Robert Sargeant
Canada lost a giant in medicine with the death of Dr. Robert Sargeant on November 28, 2021 at the age of 54, almost a year to the day after his diagnosis of glioblastoma multiforme. He died at home with his family at his side.

Rob, aka Sarge, was a beloved teacher, a gifted clinician, a trusted leader, and a tireless advocate for General Internal Medicine (GIM) and for underdogs in general. He rose through the ranks to become Associate Professor of Medicine at the University of Toronto and director of the Division of GIM at St. Michael's Hospital, but never lost his frank communication style or his trademark irreverent wit.

Rob began his academic journey with a PhD in Biochemistry, followed by medical school, postgraduate internal medicine, and GIM training, all at the University of Toronto. He was appointed as a staff physician in the Division of General Internal Medicine at St. Michael's Hospital in 2004, where he remained for the duration of his career, and where he served as clerkship coordinator, internal medicine residency program director, interim Fitzgerald Academy director, and, from 2015 onward, director of the Division of GIM.

Rob loved to teach, and his time with trainees was among his favourite parts of his job. His educational prowess was recognized with more than 20—twenty—awards over his career, including the prestigious Dr. E. Mary Hollington Award, the W.T. Aikins Award, and the William Goldie Award for Education from the Department of Medicine at the University of Toronto. He supervised and mentored thousands of students and residents, now in practice across the globe, who recall not only his teaching but also his authenticity, compassion, and generosity of spirit. He was, in the words of one of his former trainees, "the best person."

Rob was a master clinician, a "doctor's doctor" who excelled in all areas of medicine. He was vocal in his advocacy for the patients in his inner-city practice. He championed innovative models of care, including rapid referral clinics and interprofessional care pathways for people with diabetic foot infections. During the COVID-19 pandemic, he helped develop policies and protocols for the care of underhoused people, and these were subsequently adopted throughout the region. He was also a beloved and trusted leader who recruited an outstanding cadre of general internists at St. Michael's Hospital and was a fierce advocate for GIM, described by colleagues as "the kind of leader you want on your side." He had a reputation for refreshing plain-spokenness and never shied away from calling out inefficiencies, injustice, or flawed decisions. But this was tempered by his immense kindness and humour; it was always clear that he saw the good in others, even when he disagreed with them, and he could always make people laugh, even if they disagreed with him.

Rob had a full life outside of medicine. His wife, Karen, and their sons, Matthew and David, meant the world to him. He was an accomplished cyclist and triathlete who travelled and competed in Ironman races around the world. He loved sports, especially the Toronto Blue Jays. He was a good friend.

He will be deeply missed. Please take a moment to reflect on your favourite memory of Rob, and, if you are so inclined, raise a glass in his honour: to Rob, the best person.
 
Yours,
Moira
Dr. Moira Kapral
Director, Division of General Internal Medicine, University of Toronto
---
Moment of Silence to Remember Rob: Wed. Dec. 1, 11 AM

Since COVID-19 restrictions prevent us from gathering, the University of Toronto Department of Medicine has planned a collective moment of silence on Wednesday, December 1st at 11 AM when we will pause our activities to remember Rob. 
---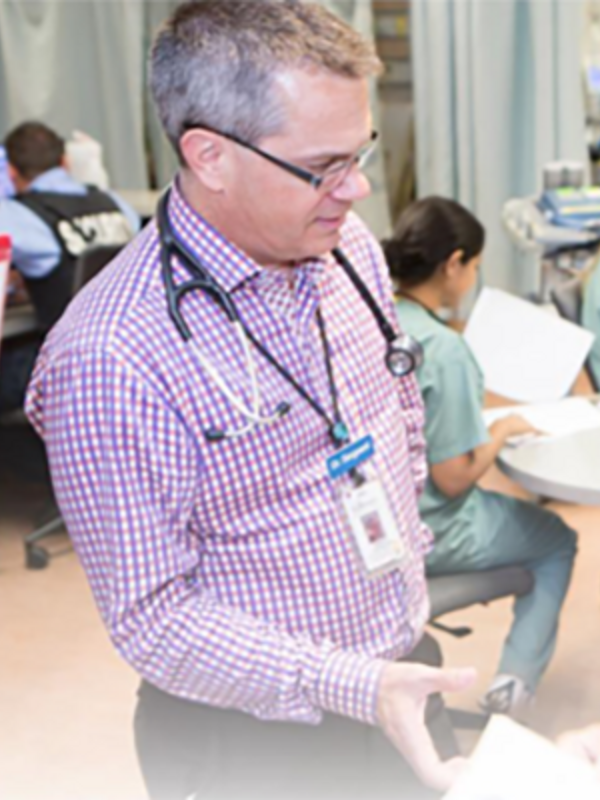 Donate to the Dr. Rob Sargeant Fund 
Rob and Karen have established the Dr. Rob Sargeant Fund to support General Internal Medicine at St. Michael's Hospital. This will be a flexible fund that will provide immediate support for the GIM department's highest-priority needs, which could include anything from vital equipment to educational programs for staff and trainees to team wellness initiatives.