What is the GIM Redesign?
Cardiology, Clinical Immunology & Allergy, Clinical Pharmacology & Toxicology, Division of Dermatology, Education, Emergency Medicine, Endocrinology & Metabolism, Faculty, Gastroenterology & Hepatology, General Internal Medicine, Geriatric Medicine, Hematology, Infectious Diseases, Medical Oncology, Nephrology, Neurology, Occupational Medicine, Physical Medicine & Rehabilitation, Quality & Innovation, Research, Respirology, Rheumatology, Palliative Medicine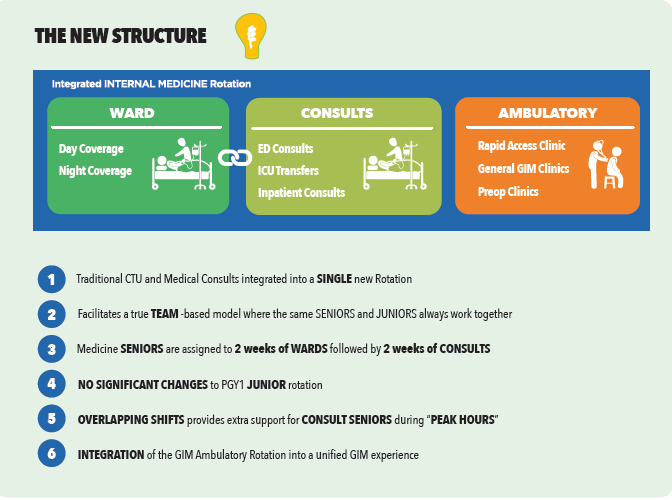 The GIM Redesign is a grassroots initiative meant to enhance opportunities for graded responsibility and continuity of care, improve work-life balance for learners and faculty, and reflect real world practices. Made possible through input and support from a wide range of stakeholders, the GIM Redesign is set to launch in July 2021.
We asked GIM Redesign Lead, Dr. Ophyr Mourad, and GIM Division Director, Dr. Moira Kapral, to talk about the anticipated impact of the GIM Redesignto talk about the anticipated impact of the GIM Redesign on our teachers and learners and what changes they may expect as of July 1, 2021.
The GIM Redesign will launch next month (July 2021.) Can you explain why these changes to our CTUs are necessary? What are some of the factors impacting the service-to-education ratio?
The Clinical Teaching Units (CTUs) have served us well over the past 30 years, but times have changed since the introduction of this educational concept in 1962. CTU patient volumes and complexity have increased dramatically, while resident numbers have decreased. Change was necessary in order to meet the expectations of our learners and increasingly complex patient care needs. The GIM Redesign is a grassroots initiative and the objective is to review the entirety of GIM activities, how we partition our work, and how we deploy human resources to better reflect workload, with the goal of protecting our educational mandate. The overall goals of the Redesign are to enhance opportunities for graded responsibility and continuity of care, improve work-life balance for learners and faculty, and reflect real world practices. These changes were driven by our continued commitment to improving patient care, service-to-education ratio, and the trainee and faculty experience.
What changes will be made to our CTUs (elements and workflow) once the GIM Redesign is launched?
The GIM Redesign combines the current CTUs and traditional medical consult service into a single new GIM rotation. Senior medical residents in their PGY-2 and/or PGY-3 years will complete four blocks in each year as the "team senior" on the new GIM rotation. Each block will include a two-week experience as ward team leader and a two-week experience as an internal medicine consultant in multiple settings, including the emergency department as well as consultation in other disciplines or in medical subspecialty inpatient units. Seniors will no longer do 24-hour call shifts and thus will never be post-call when assigned to lead a ward team. The PGY-1 experience has remained unchanged.
How will the GIM Redesign impact our teachers, subspecialty residents and Core Internal Medicine residents?
Separating senior resident ward from consult duties will address the concern of having divided priorities between the ward and the emergency consults and will improve predictability and consistency of ward coverage. Junior trainees in turn will receive consistent senior resident support and supervision. Predictability in coverage and clear lines of responsibilities will facilitate more teaching opportunities. This is an internal realignment of GIM services. Subspecialty rotations will remain unchanged with the exception that the Redesign may add on average one additional call night per month, per trainee, assigned to subspecialty call.
Can you talk about the shift towards team-based medicine? How will that benefit our teachers and learners?
The strength of our CTUs is the "team-based" model whereby each clinical teaching team is comprised of an attending physician, a senior medical resident, junior residents and medical students. This is essential for meeting Royal College requirements for graded responsibility as well as other CaNMEDS roles. The GIM Redesign strengthens this team-based model and is expected to increase opportunities for graded responsibility as it ensures a consistent daytime senior resident presence on the wards.
Can you talk a little bit about the research process/consultations and environmental scan? Who was involved and how was that information integrated into the planning process?
The GIM Redesign initiative was made possible by input and support from a wide range of stakeholders both within and outside of GIM. This included surveys of faculty and residents, discussions with educational leaders at other institutions, multiple GIM faculty retreats, extensive review by the Core Internal Medicine Residency Program Committee, pilot testing of Redesign elements, and presentations and information sessions for trainees, Division Directors, Physicians in Chief and the DOM Executive. The work involved representation and engagement from all five affiliated academic teaching hospitals and a strong partnership with the Core Internal Medicine Program.
Do you anticipate any challenges with implementation of the GIM Redesign?
launch of the Redesign will coincide with an unusually low number of trainees in the core program for the 2021/22 academic year. This means that there may be times when GIM and the subspecialties will not have the desired number of residents required for an optimal educational experience. The lower number of trainees is not a result of the GIM Redesign but due to other unrelated factors and we anticipate this will improve in future years. In addition, the Redesign requires caps on the size of CTUs, but resources to care for patients on resident-independent units are currently lacking.
What are the next steps? Can you walk us through the rollout plans for the GIM Redesign?
The GIM Redesign is scheduled to launch on July 1, 2021. The GIM Redesign Committee has been working diligently over the past several months to ensure a successful and smooth rollout, however, we are aware that new processes can be challenging or result in unintended consequences. Plans are in place to measure and study the impact of the Redesign on the learner experience, faculty perspective, and patient outcomes, as well as the impact on our subspecialty partners.