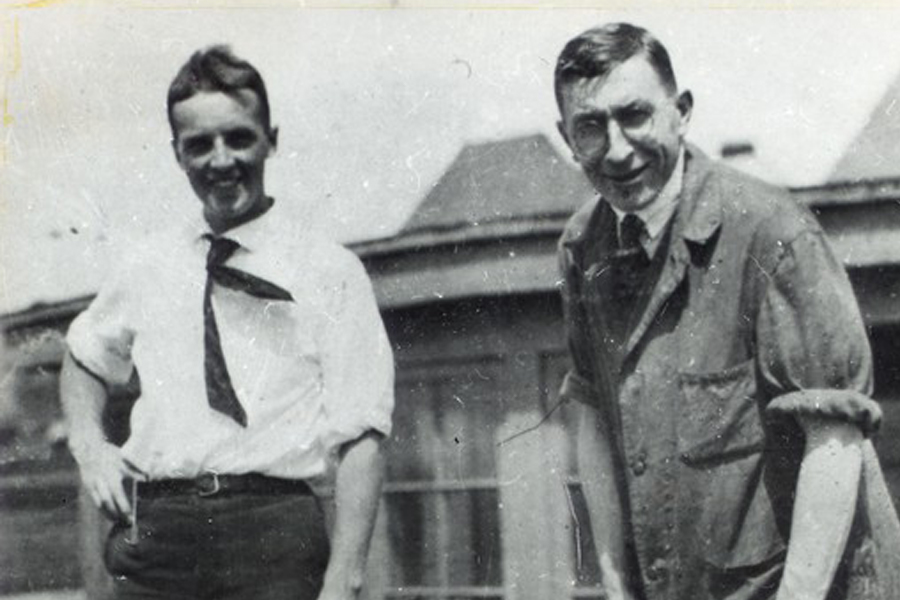 Before insulin, children diagnosed with diabetes faced death. Prior to penicillin, minor infections quickly became life-threatening. Dramatic, life-saving discoveries like these highlight the tremendous impact of knowledge and understanding — and the importance of pushing beyond standard practice.
The discovery of insulin depended on physician Dr. Frederick Banting dedicating himself and resources made available to him — including U of T laboratory facilities and student research assistant Charles Best — to test a hypothesis. The discovery of insulin a century ago has saved countless lives. Now, 100 years later, clinician-scientists at U of T continue to make medical advances that are saving and transforming lives.
Clinician-Scientists are Uniquely Positioned to Advance Health Care
The Eliot Phillipson Clinician Scientist Training Program in the Department of Medicine is investing in the future of clinician-scientists, ensuring the highest level of education and mentorship for Canada's most talented and dedicated medical trainees. Situated at the University of Toronto in the Toronto Academic Health Sciences Network (TAHSN), a research and educational hub of world-leading hospitals and health care sites, the program is uniquely positioned to generate and translate new knowledge to impact health.
Our trainees are able to tap into Toronto's leading expertise in health policy and management, huge strengths in computational research, excellent technological infrastructure, broad and deep health data sets, strong history of cross-disciplinary collaboration and a remarkably diverse population.
The best research questions come from interactions with patients. Clinician-scientists are at the interface between clinical care and research. Unlike PhD scientists, clinician-scientists are physicians. They have regular interactions with patients in their clinical area, which provides them with an understanding of the important issues that patients face in the prevention, diagnosis and treatment of their conditions. They are then able to take this 'insider info' to the lab for investigation, before translating research findings seamlessly back into the clinic to improve patient outcomes.
The Department of Medicine: A Century of Lifesaving Discoveries
1919
In 1919, a gift from the Eaton family effectively established the Department of Medicine practice plan through the Sir John and Lady Eaton Professorship of Medicine. The first endowed chair in clinical medicine enabled major recruitment of 'academic physicians' who combined clinical skills with scientific training and experience to interpret scientific advances to students and practitioners. The gift also enabled the expansion of laboratory research, better defined the role of physicians and faculty within the DoM, and ultimately facilitated early research breakthroughs such as the discovery of insulin just a few years later.
1921
Insulin: Toronto's gift to the world
Frederick Banting, Charles Best, physiology professor JJR Macleod and visiting Alberta biochemist James Collip attend the annual conference of the American Physiological Society in New Haven, where Banting reports on their pancreatic extract, then called "Isletin." The first injections are given to a patient at the Toronto General Hospital in 1922, and by 1924 insulin becomes widely available to people with diabetes.
1922
Dr. Duncan Graham, the first Professor of Clinical Medicine at the University of Toronto, establishes the first diabetes clinic at Toronto General Hospital.
1967
Dr. Jack Laidlaw establishes the Institute of Medical Science
The MSc and PhD programs are designed to train academic physicians in basic and clinical research.
1970 - 1981
The Department transforms into a hub of flourishing scientific investigation
During Dr. Charles H. Hollenberg's time as Chair, the Department recruits a large cohort of well-trained clinician-scientists. By the end of the 1980s, the Department becomes one of the strongest research-based clinical departments in Canada and internationally.
1992
Dr. David Naylor develops the proposal to establish the Institute for Clinical Evaluative Sciences (ICES), and serves as the Institute's founding CEO. ICES is a not-for-profit research institute encompassing a community of research, data and clinical experts, and a secure and accessible array of Ontario's health-related data.
1994
Dedicated training for clinician-scientists
Dr. Eliot Phillipson is instrumental in forming the Clinician Scientist Training Program to develop clinicians with PhD-level research training.
1996
Dr. Daniel Drucker identifies GLB-2 as a therapeutic treatment for Short Bowel Syndrome, the first therapy approved for long-term use.
1998
Dr. Chung-Wai Chow becomes the first graduate of the Clinician Scientist Training Program.
One of only a few researchers studying the effects of air pollutants and toxins on the transplanted lung, Dr. Chow has leveraged her research findings to increase awareness of the importance of common lung disease to the general public, policy makers and allied health professionals.
1998 - 1999
An endocrinologist and clinical epidemiologist, Dr. Gillian Booth leads a research team with expertise in health policy, public health, geography, urban design, engineering, social sciences and health economics to study the environmental determinants of obesity and diabetes. Dr. Booth conducted the first-ever prospective study to examine the interrelationships between walkability, transportation choices, obesity and diabetes. Her study examined 9,000 Southern Ontario neighborhoods and found that walkable neighborhoods had lower risks of diabetes. Dr. Booth has been a consultant to the Ontario Ministry of Health in the development of the Ontario Diabetes Strategy, and was the co-lead on the Canadian Diabetes Association's Clinical Practice Guidelines.
2006
"Dr. Jack Tu and the Canadian Cardiovascular Outcomes Research Team create a national Atlas of heart health, pinpointing regions where the disease is most widespread, the kind of care available and the associated outcomes."

http://www.cihr-irsc.gc.ca/e/35216.html
2008
"Dr. Tony Lam discovers a new signalling pathway between the gut, the brain and the liver that lowers blood sugar when activated, creating the possibility of new treatments for people with diabetes."

http://www.cihr-irsc.gc.ca/e/35216.html
Meet a Few of the Clinician-Scientist Training Program Alumni
| | |
| --- | --- |
| | When trainee Dr. Amol Verma realised as an internal medicine resident that his ageing patients with multiple chronic diseases were not reflected in the medical literature, which focused on younger patients with a single condition, he set out to change that. Along with fellow medical school graduate Dr. Fahad Razak and other collaborators, he integrating general medicine clinical data from seven University of Toronto-affiliated hospital sites, enabling research on current patients, their treatments and health outcomes. |
| | For Dr. Mona Loutfy, the experiences of women and vulnerable populations with HIV has inspired her research. Dr. Loutfy examines the impact of HIV on the quality of life and health care outcomes of women and margalized populations. She has highlighted the negative impact of gender bias and HIV-associated stigma on Canadian women seeking fertility services and care for HIV/AIDS. Dr. Loutfy has been an Advisor to the World Health Organization on guidelines for Sexual and Reproductive Health Rights for Women Living with HIV. Dr. Loutfy has shown that among heterosexual couples with mixed HIV status, the risk of sexual HIV transmission is minimal when the HIV-positive partner has full viral suppression on combination antiretroviral therapy. These findings are transformational for women living with HIV and have significantly informed health policy. |
| | As a clinician-scientist trainee, Dr. Warren Lee sought to better understand the molecular mechanisms underlying endothelial leak in order to develop better tools to block it. Dr. Lee's fundamental question explored why blood vessels leak at the setting of infections caused by the flu and how we prevent leakage (which can lead to acute lung injury caused by viral pneumonia.) Dr. Lee's research led to an application for a patent for a novel drug, a Tie2 agonist that prevents vascular leak from influenza infection without impairing leukocyte emigration. |
|   | Dr. Mario Masellis is working to identify and develop biomarkers using brain imagining and genetics that can identify the earliest stateless of neurodegenerative diseases before symptoms develop. Dr. Masellis focuses on rarer forms of cognitive and movement disorders, including Parkinson's disease, and early-onset dementia. His research has lead to important discoveries, including provisional patents on genetic markers that have been shown to predict a stable response to a drug used to treat Parkinson's disease. He has also been the co-lead of the Ontario Brain Institute, Ontario Neurodegenerative Disease Research Initiative since July 2016, and is the Canadian lead for several major international research consortia. |
| | Dr. Susanna Mak's research focus is on ventricular and pulmonary vascular function in humans. She oversees a unique research laboratory, one of only two in the world, which carries out studies on human heart physiology. Dr. Mak has translated her understanding of cardiovascular physiology into innovations in care for patients with advanced congestive advanced heart failure patients at end of life which resulted in the creation of a guide for primary care physicians. |
CLINICIAN-SCIENTIST TRAINING PROGRAM INVESTMENT & NAMING OPPORTUNITIES
Fellowships and Graduate Awards for clinician-scientists provide the protected time needed to pursue questions that often lead to life-long careers as researchers.


Clinician-Scientist Start-Up Funding and Early Career Professorships allow us to retain and recruit the world's most promising clinicians and researchers who will be future leaders in their field.


Named Chairs are among the highest honours that can be bestowed upon a university faculty member.
To discuss these opportunities, contact:

Tyler Small
Senior Development Officer
Office of Advancement
Temerty Faculty of Medicine, U of T
Mobile: 416.659.5761 | tyler.small@utoronto.ca
Additional Opportunities to Give