17th Annual Education Achievement Awards Recipients
On May 15, the Council of the Education Vice-Deans hosted the Education Achievement Celebration, an event to recognize and celebrate the tremendous contributions being made to medical teaching and education scholarship throughout the Faculty of Medicine and Department of Medicine.
This event recognized seven members from the Department of Medicine:
Miriam Rossi Award for Health Equity in Undergraduate Medical Education: Dr. Lisa Richardson
Lisa Richardson is a clinician-educator in the Division of General Internal Medicine. Her interests lie in the integration of critical and Indigenous perspectives into medical education. She co-leads an emerging portfolio for the Department called Person-Centered Care Education.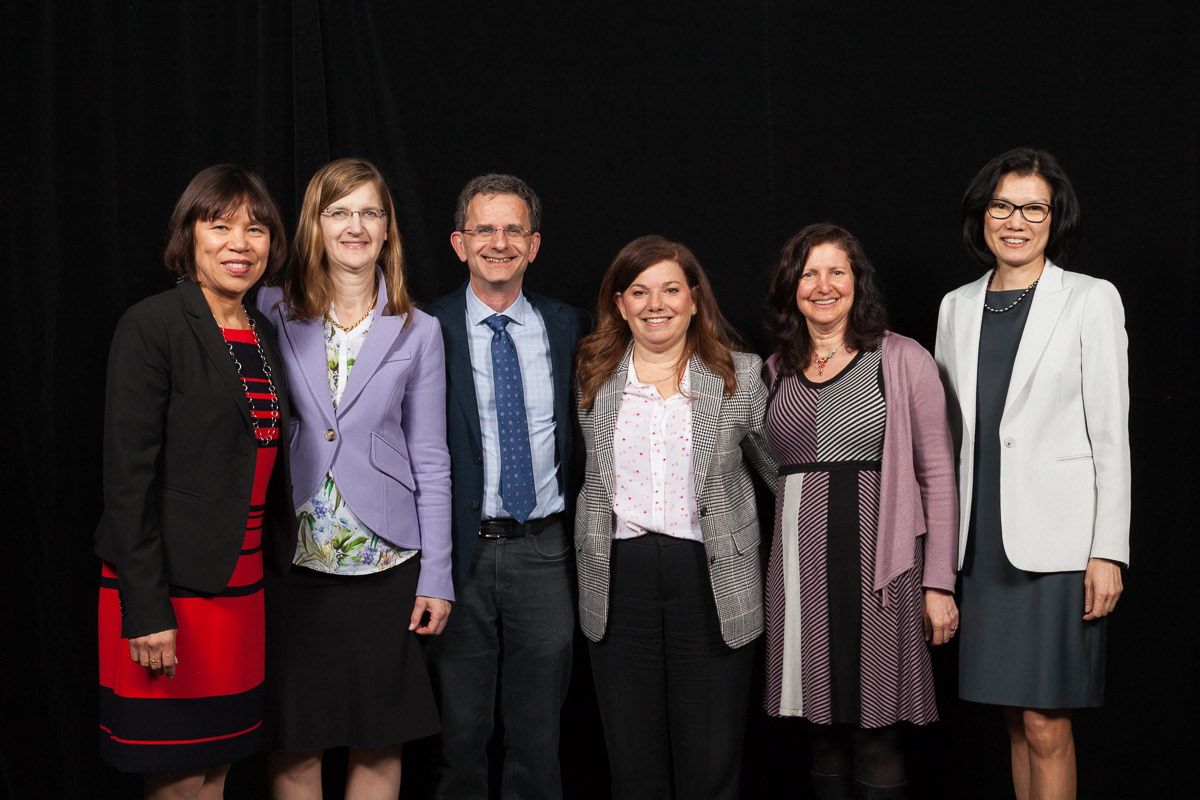 Department of Medicine Faculty at Education Achievement Awards Ceremony
Health Sciences Research – Teaching Excellence Award: Dr. Richard Wells
Richard Wells is a clinician-scientist and staff haematologist at the Odette Cancer Centre, Sunnybrook Health Science Centre. His clinical work is in the area bone marrow failure, encompassing myelodysplastic syndrome, aplastic anaemia, and paroxysmal nocturnal haemoglobinuria, with a growing practice in acute leukaemia.
Excellence in Postgraduate Medical Education Award – Teaching Performance, Mentorship and Advocacy: Dr. Jeannette Goguen
Jeanette Goguen is the Program Director of Internal Medicine and is a staff endocrinologist at St. Michael's Hospital. She has a particular interest in pituitary and adrenal disorders, having established a multidisciplinary pituitary clinic at St. Michael's Hospital.
Sarita Verma Award for Advocacy and Mentorship in Postgraduate Medicine: Dr. Barbara Liu
Barbara Liu is the Program Director of the geriatric medicine subspecialty training program and Associate Professor of Medicine at the University of Toronto. She is also the Executive Director of the Regional Geriatric Program of Toronto, leading a network of 23 hospitals in the delivery of specialized geriatric services.
AFMC May Cohen Equity, Diversity, and Gender Award: Dr. Sharon Straus
Sharon Straus is a Professor in the Department of Medicine, Division Director of Geriatric Medicine at the University of Toronto and Director of the Knowledge Translation Program at the Li Ka Shing Knowledge Institute of St. Michael's Hospital.
CAME Certificate of Merit: Dr. Umberin Najeeb
Umberin Najeeb is an Assistant Professor in the Department of Medicine conducting education research to enhance the understanding around challenges and issues surrounding IMG education and training.
Education Development Fund 2018: Dr. Seema Marwaha
Seema Marwaha is an Internal Medicine physician treating complex and chronic illness at Trillium Health Partners, and a scientist at Trillium Health Partners Institute for Better Health. Her research focus is on how media can improve both the patient experience and the learning experience in medicine.
The event program with the complete list of awardees can be viewed here.