Appointments & Awards: September 2020
Emergency Medicine, Clinical Immunology & Allergy, Cardiology, Division of Dermatology, General Internal Medicine, Respirology, Endocrinology & Metabolism, Education, Research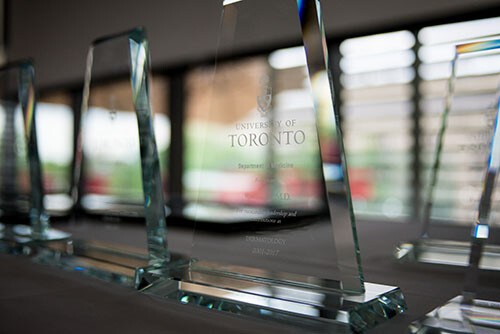 Appointments
Stephen Betschel, Department Division Director, Division of Clinical Immunology and Allergy, effective September 1, 2020.
Dr. Betschel's divisional priority will be on increasing the visibility and integration of clinical immunology and allergy across University of Toronto sites. His focus will be on sustained excellence in education and enhanced collaborative ventures between medical specialties and basic science immunology.
Lucus Chartier, inaugural UHN Medical Director of Quality & Safety, effective July 1, 2020.
In this role, Dr. Chartier will Chair a new subcommittee of the MAC – the UHN Physician Quality & Safety Committee, which will work in synergy with the UHN Vice President of Quality & Safety Ms. Emily Musing, to achieve the highest quality of clinical care at UHN.
Bourne Auguste and Alanna Weisman, Young Faculty Representatives, Department of Medicine Executive Committee
Awards
Clinician-Scientist Training Program, Department of Medicine, University of Toronto
Paraish Misra, CSTP Scholar, The 2020 Charles Hollenberg Prize
For "Determining the Therapeutic Potential of hla-deficient Human Pluripotent Stem Cell-derived Beta-like Cells".
Maneesh Sud, CSTP Scholar, The 2020 Charles Hollenberg Prize
For "Low-Density Lipoprotein Cholesterol and Major Adverse Cardiovascular Events after Percutaneous Coronary Intervention".
Canadian Cardiovascular Society (CCS)
Husam Abdel-Qadir, Atrial Fibrillation Research Award
The proposal titled: The Secondary Atrial Fibrillation Evaluation (SAFE) study was selected for the Atrial Fibrillation Research Award and funding commencing July 2020. Principle Investigators: H Abdel-Qadir and D Ko Value.
Canadian Dermatology Association
Aaron Drucker, Research Award in Dermatology (2020)
The Canadian Dermatology Association presents an annual award for the best manuscript submitted in either English or French, for original work, not previously published or accepted for publication at the time of submission, relevant to some aspect of dermatology.
Canadian Society of Internal Medicine
Chaim Bell, 2020 Dr. David Sackett Senior Investigator Award
This is the premier research award from the national society and is a testament to Dr. Bell's tremendous contributions to research and mentorship of trainees.
Faculty of Medicine, University of Toronto
Omar Albassam and Danielle Buell, 2020 Postgraduate Medical Trainee Leadership Award
Social Sciences and Humanities Research Council
Ryan Brydges, Stella Ng, Kieran McIntyre, and Walter Tavares, SSHRC Insight Grant
The award is funded from this Tri-Council agency to explore assessment and self-regulation in the simulation-based and workplace-based settings. Much of the funding will be allocated to PhD students and research coordinators supporting this work.
Women's College Hospital, Department of Medicine
Jakov Moric, Undergraduate Education Award
Rosario Briones-Urbina and Afshan Zahedi, Postgraduate Education Award